The 15 Best Hikes In Sedona
Sedona Hiking Trails for every activity level
Sedona is a stunning Arizona vacation destination, for nature lovers and photographers. There are so many Sedona Hikes that you can do in your time there, and that is why I have put together this list of the best hiking trails in Sedona.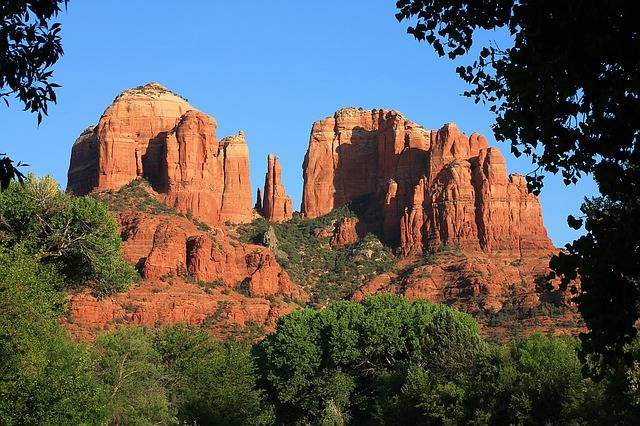 Hiking is a popular activity in Arizona and two of the hikes in Sedona, Cathedral Rock and Devil's Bridge, make my list of the Best Hikes in Arizona. You can also find out which are the best hikes in Arizona with waterfalls and also the best Hikes in Arizona. As you can see, hiking is a popular activity in Arizona and there are so many hikes near Sedona.
Now let's hit the Sedona Trails to see which ones are the great Sedona hikes for you!
Sedona Arizona Hiking
Sedona, also known as Red Rock Country, is one of the most popular destinations in Arizona. You will be able to explore the gorgeous natural landscapes on these Sedona Trails where you can relax and unplug in a beautiful natural setting.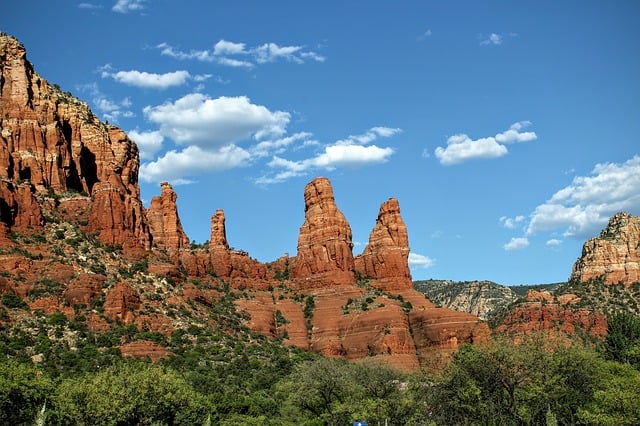 Many of the best Sedona hiking trails are located only a short distance from Sedona. You really cannot go wrong with hiking Sedona, and all of the Sedona hikes listed below are some of the best.
You will need to purchase a Red Rock Pass to do most of the hikes in Sedona and you can purchase it here. The Red Rock Pass is required when leaving your vehicle unattended while recreating on National Forest land around Sedona and Oak Creek Canyon.
Make sure to scroll to the bottom to read the section on what to bring with you when hiking in Sedona and also read about where you can visit the Sedona vortexes.
Best Hikes in Sedona – my choices
In my opinion, you cannot go to Sedona without doing Cathedral Rock Hike and Devil's Bridge. They are both very popular trails in Sedona and for good reason. They have great views of the red rocks that are famous in this area.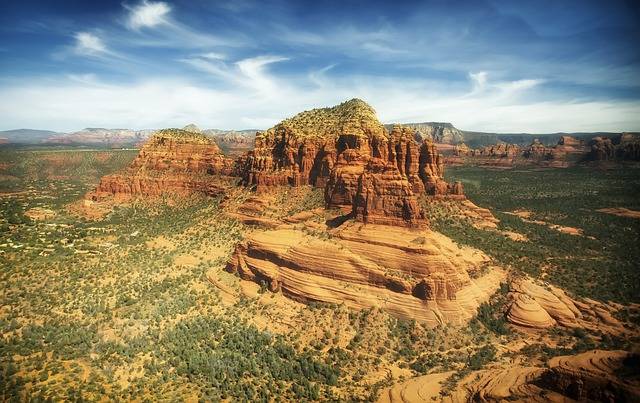 I would visit Cathedral Rock or Bell Rock. These Sedona hiking trails are Sedona Vortex Hikes. If you are wondering what a vortex hike is, make sure to scroll to the bottom to read the section on what to bring with you when hiking in Sedona and also read about where you can visit the Sedona vortexes.
Easy Hikes in Sedona
I've included plenty of easy hikes in Sedona on this list. There is nothing worse than hiking a long, hot trail, on a day where its over 100 degrees and there is no shade on the trail or worse going straight up the hill the entire hike!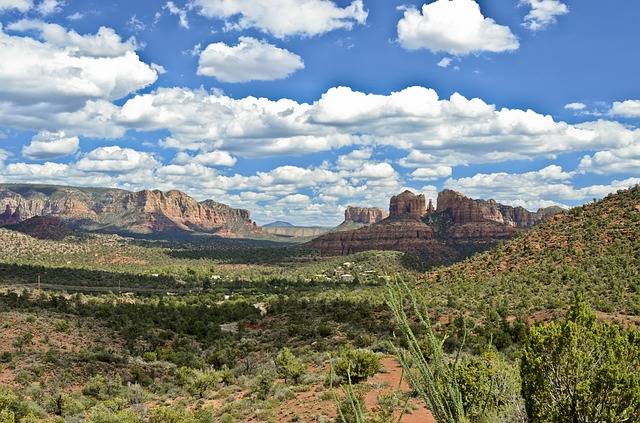 So these are the Sedona hiking trails that are easy: Fay Canyon, West Fork, Deadman's Pass, and Red Rock Crossing.
I would just like to mention that hikes like Cathedral Rock and Devil's Bridge are rated moderate. I know Cathedral Rock is rated that way because it is steep at the end and there is no shade. You also have to 'scramble' over some rocks but to me these hikes are not that difficult.
1. Cathedral Rock is one of the best Sedona Hiking Trails for beautiful views
This is THE hike to do in Sedona. Cathedral Rock Trail is a short trail that is very popular in Sedona. It may be short, but it is quite steep. The views from the top are worth it though.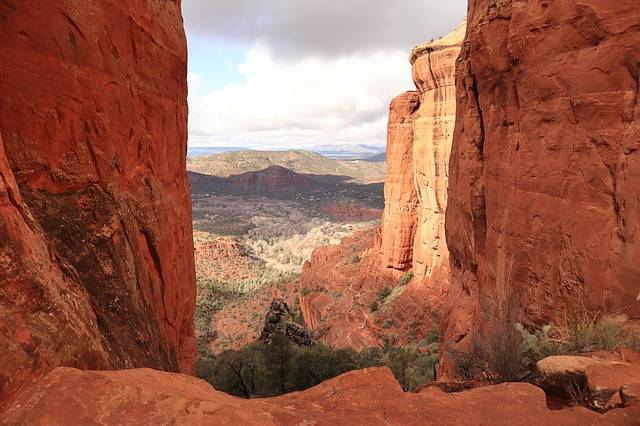 The views on this trail are amazing. Along the way you can see Bell Rock, Courthouse Butte, and Mogollon Rim. The trail is about a mile and you will gain 550 feet in elevation along the way.
You will follow the cairns along Cathedral Rock Trail and then cross over to Templeton Trail however much of this hike is spent 'going in the right direction'. You need to be careful as you will be climbing up the rock and back down again.
At the end of the trail there is a sign that says 'end of trail'. I didn't try this but there is a small, narrow ledge where you can look out for views. I'm a bit afraid of height so I stayed on the flat area to take in the views.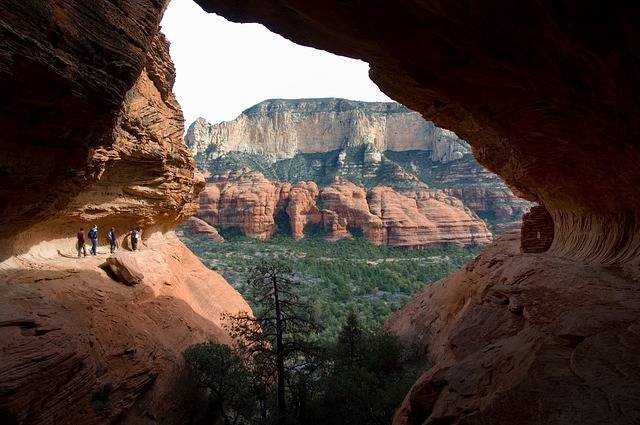 TIP: Make sure to put on sunscreen as there is no shade along the trail. Also, as this is a popular hike parking can be a problem. There are about 30 parking spaces there so if you want to make sure you get a spot, go early in the morning. This will obviously help with the sun and the heat too.
2. Devils Bridge on of the best Sedona Arizona Hiking Trails
This Sedona Hike is high on everyone's list as one of the best Sedona Trails out there. This is the largest sandstone arch in Sedona.
This hike is a 4 mile round trip hike that gains 400 feet in elevation along the way. This trail is relatively easy to hike with most of the elevation gain being at the end to get up to the bridge.
This hike is top of the list for many people partially because the visitor's center recommends but also because it is an easy hiking trail with beautiful red rock scenery, and of course the views of the Bridge at the end.
The trail at the start is very wide and flat. At the end the trail gets narrower and then you are hiking up the mountain to get to the Devil's Bridge.
Tip: The Chuckwagon Trail is also for mountain bikers so stay on the lookout for them if you are hiking in a group.
3. Bell Rock
This scenic trail is 1.75 miles in length and follows along the northern face of Bell Rock. The Bell Rock Pathway is one of the easiest and most fun hikes you will encounter in Sedona. The Bell Rock got its name because it resembles the shape of a bell.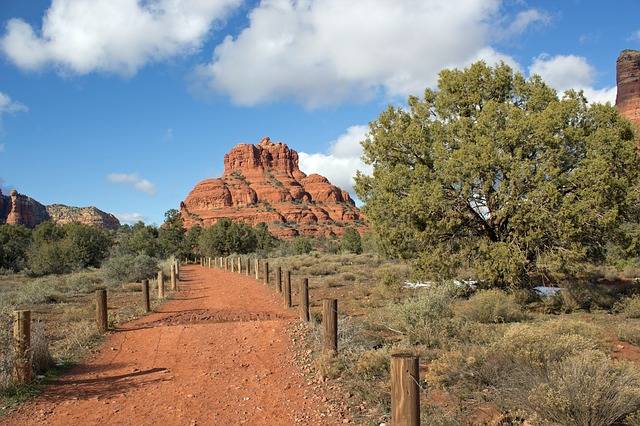 You are able to climb the rock as high as you are able and enjoy the breathtaking view. Many consider it to be a fairly easy hike with lots to see. There are many hikers, joggers, and cyclists on this path so it can get very crowded.
4. West Fork
The West Fork trail is a very long trail at 6.9 miles. This trail is a favorite of Sedona hikes because if its striking beauty and wonderful scenery. It is considered an easy hike and there are lots of trees to offer plenty of shade.
This is an excellent trail if you want to beat the heat. You will cross lots of streams on this hike and you can take a dip in the water for a bit on your way. It is a very calm and peaceful trail and you'll be glad you experienced it.
5. Oak Creek Canyon
Oak Creek Canyon is considered a small version of the Grand Canyon because of its amazing landscape. This is a scenic route mostly seen by car. Don't forget to bring your hiking gear though because there are plenty of places to get out of your car and enjoy up close.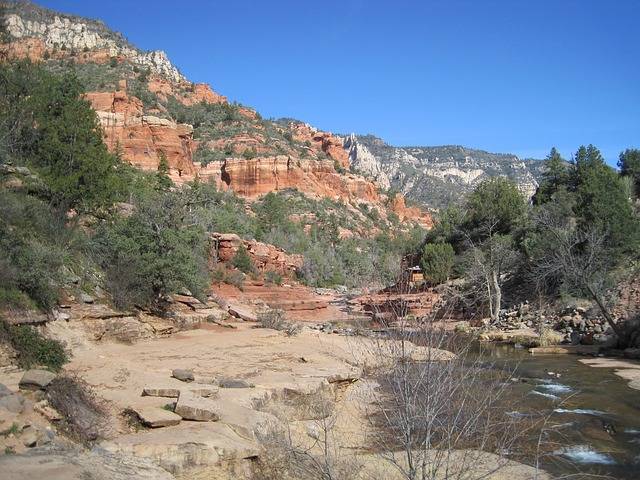 There are tables along the way to get out and eat a bite while surrounded in the breathtaking nature. There are also little spots where you can enjoy a swim.
6. Birthing Cave
This secret little hike is 2 miles long. It is well hidden and takes you on a mysterious journey. It is a very easy path and highly enjoyable. There are many mountain bikers that use this trail, so proceed with caution as they race by.
The trail is wide and flat, allowing lots of space. This trail leads you to the secluded birthing cave. You can sit and relax inside this peaceful cave and forget your troubles a while. It will be worth it!
7. Soldiers Pass And The Sacred Pools
The popular trail at Soldiers Pass is something you must see while hiking in Sedona. It is 4 miles long and takes you through many incredible passageways. You will pass by an area known as Devil's Kitchen and past the Seven Sacred Pools.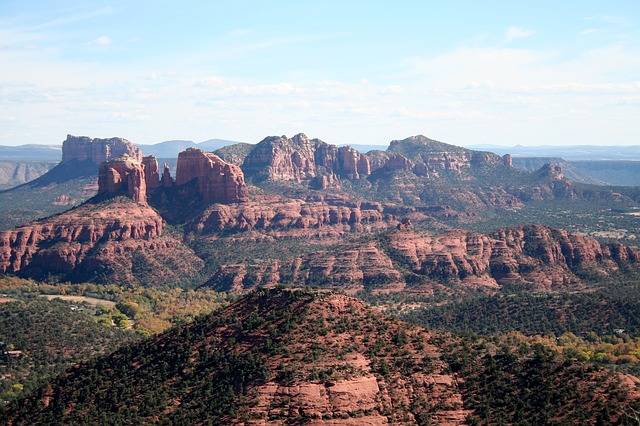 The shade inside the cave can also provide some relief from the hot sun. The Soldier Pass Trailhead is only open 8am to 6pm and there are only 15 parking spots available at the trailhead.
This trail is at the heart of what many call the Sedona vortex (you can read more about this below under 'things to know'). It is amazing to behold and you also encounter a hidden cave. Be sure to check out this well maintained and hidden gem.
8. Airport Mesa
The Airport Mesa trail is 3.2 miles long. It is a loop that gives you views of the amazing red rock formations and is one of the spectacular Sedona hikes. This trail can be a bit tricky and has many slopes about a mile in.
Be sure to bring lots of water because this hike has almost no shade. It has lovely views and is a real treat for the eyes. There is lots of high traffic on this trail so keep steadily walking. Watch where you step and enjoy the views. With all the miraculous scenery to see, it is no surprise that this trail is such a popular one!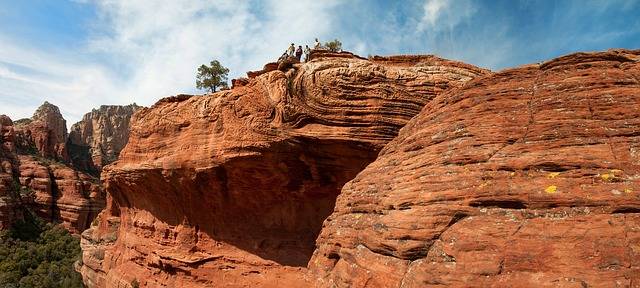 9. Munds Wagon Trail
Finally a shady hike! The Munds Wagon Trail is a hike that is roughly 4 miles and the trail is well marked with caged cairns (piles of rocks to mark the way). This is a long and steady path that is very easy and casual to travel. This trail follows along what was one of the first cattle trails in Sedona.
You will see lots of red rocks on this trail, making it a nice spot to stop and sit or lay down a while. This path runs alongside Schnebly Hill Road and you may encounter the jeeps that often drive past as you cross the road. You will see a few landmarks and things that are definitely worth viewing. The path does have quiet and peaceful detours that are a sight to see!
10. Little Horse Trail
The Little Horse Trail is about 1.5 miles. Please beware this trail has high volumes of hikers and jeep tours. This trail would be an excellent start for beginners as it provides a little challenge without being too difficult.
This scenic trail allows you to see many landmarks of Sedona, such as the Twin Buttes and the Chapel Of The Holy Cross. Another great feature of this trail heads up to Chicken Point, a place with a magnificent view and definitely one to remember.
11. Thunder Mountain
The Thunder Mountain trail is a short 1.4 mile walk and has a ton of shade. Thunder Mountain is one of the highest summits you will find in Sedona. In the middle of the hike, you will encounter a relaxing park that is worth a visit.
You can visit Amitabha Stupa and Peace Park which are a popular attraction used for meditation. It is considered a rough and somewhat difficult hike because there are many steeps and rugged terrain.
12. Fay Canyon
Fay Canyon is 1.2 miles long. It is perhaps a favorite for those who enjoy a quick and easy hike. You will see many types of desert plants and wonderful red rocks. The Fay Canyon Arch can also be seen in this trail.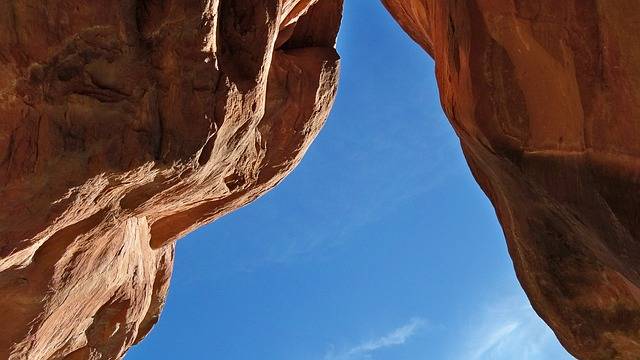 You can also climb here if you'd like. Be careful as you may encounter wildlife here. Bears have been spotted from time to time. A lot of this trail goes through the woods, so keep your eyes open. There is plenty of shade and trees on this trail if you need to stop and rest.
13. Doe Mountain Trail
The Doe Mountain Trail is very short at 0.7 miles. It can get very steep as it goes up the mountain. At the top, you can see a breathtaking panoramic view of several other mountains.
Take your time and stay awhile to marvel at the beautiful sights. This trail has lots of beautiful wildflowers and wildlife. It is completely flat on top and you can walk directly across to the other side and see amazing views from all side. Take some water and walk around atop the flat mesa or sit and enjoy the view!
14. Boyton Canyon
The Boyton Canyon trail is one of the more popular hikes in Sedona, so expect a large crowd. It is roughly 3 miles and starts of near the Enchantment Resort. This trail goes through several destinations of the Sedona vortex.
You'll pass the Deadman's Pass and Boyton Spires while walking here. There is lots of vegetation here that turns beautiful and rich in the Autumn months. You will encounter many great places to stop and eat if you have packed food. Relax and stay awhile!
15. Bear Mountain
Bear Mountain Trail is about 2.5 miles. By the name, it sounds as if this trail is populated by many bears. But don't worry, you will not encounter any bears here. Bear Mountain gets its name because its peak resembles a bear.
You will see a lot of birds and small animals along your way. The hike is considered moderate to difficult and doesn't offer much shade. The extraordinary views you will see make this hike well worth the effort. This is considered a favorite trail among locals here as it has one of the best views in Sedona.
Things to bring when you hike on the Sedona Trails
Hiking in this part of Arizona requires a bit of planning ahead. Here's what I carry with me when I go hiking in Sedona.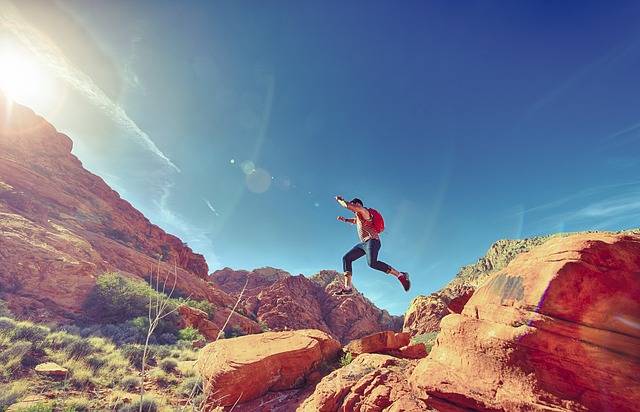 Plenty of water – I have a life straw water bottle which filters water. I also carry a gallon of water in the car so we can refill our bottles when we go back to the car.
Your camera – get ready for some epic views! You'll want to bring your camera. I like to travel with a budget action camera but you can also check out my list of the best cameras under $300 with even a few under $200.
Sunscreen – I always carry sunscreen so I can reapply but as I mentioned before most of these hikes do not have any shade so it is important to wear sunscreen and a hat.
Hiking Sandals – I like to wear hiking sandals when I hike. I wrote about choosing between Chacos vs Tevas which are two of the best hiking sandals.
Sedona Vortex Hikes – What is a vortex in Sedona you ask?
Sedona is known to have these spiritual vortexes that are powerful and transformational energy centers. They are located at specific sites throughout Sedona, Arizona. Vortexes are real things and they are said to be at the intersections of natural electromagnetic earth energy, also known as ley lines.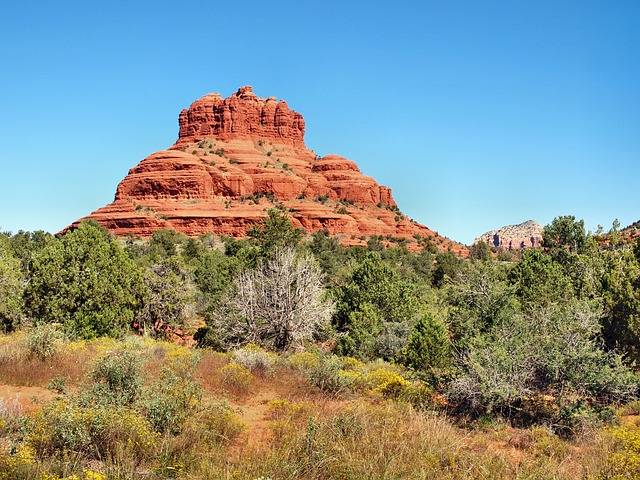 There are three types of vortexes found in Sedona – magnetic, electric, and balanced. The four best known and documented vortexes are located at Airport Mesa, Bell Rock, Cathedral Rock, and Boynton Canyon.
Conclusion – Sedona Hikes
I can't wait to return and do some more hiking in Sedona. I love the landscape and scenery you can see when on the Sedona Trails.
From vortexes to red rocks these Sedona hikes will be the highlight of your trip to Arizona.
Sharing is Caring! Pin this article to save for later.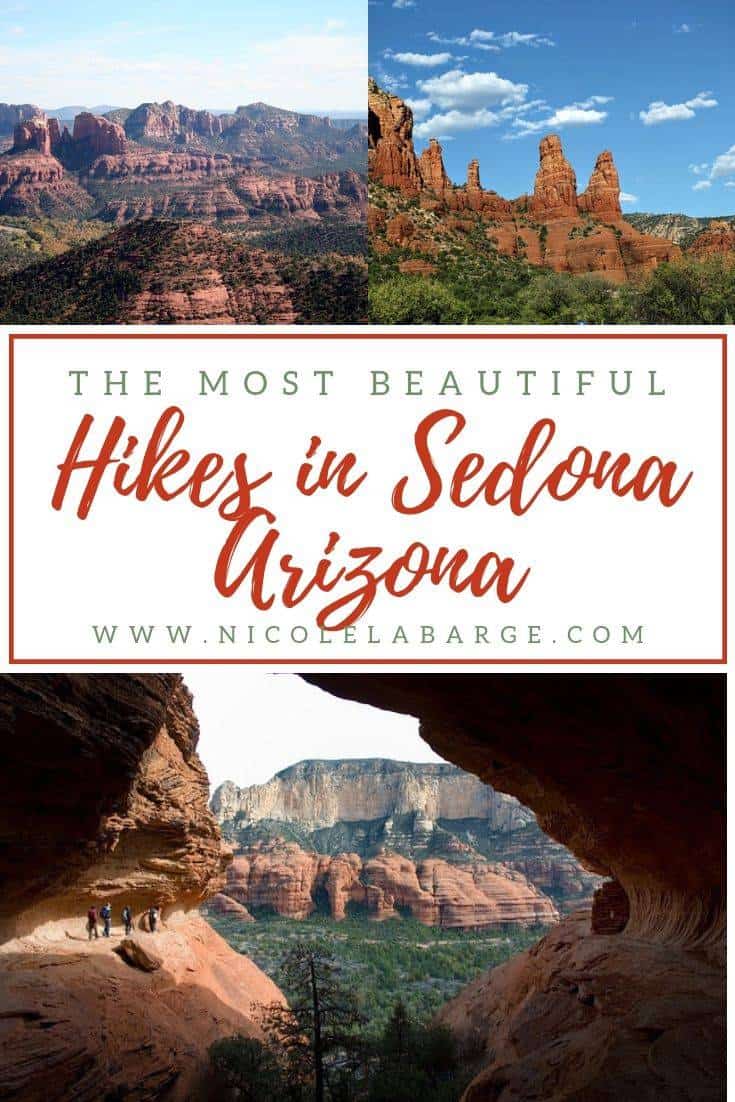 Continue Reading more articles on Arizona on my website:
Recent Posts