4 Day Tokyo Itinerary – The Best Trip to Tokyo Itinerary
Wondering how to spend 4 days in Tokyo? This 4 Day Tokyo Itinerary is great for anyone who is visiting Tokyo for the first time. It will help you plan your Tokyo trip.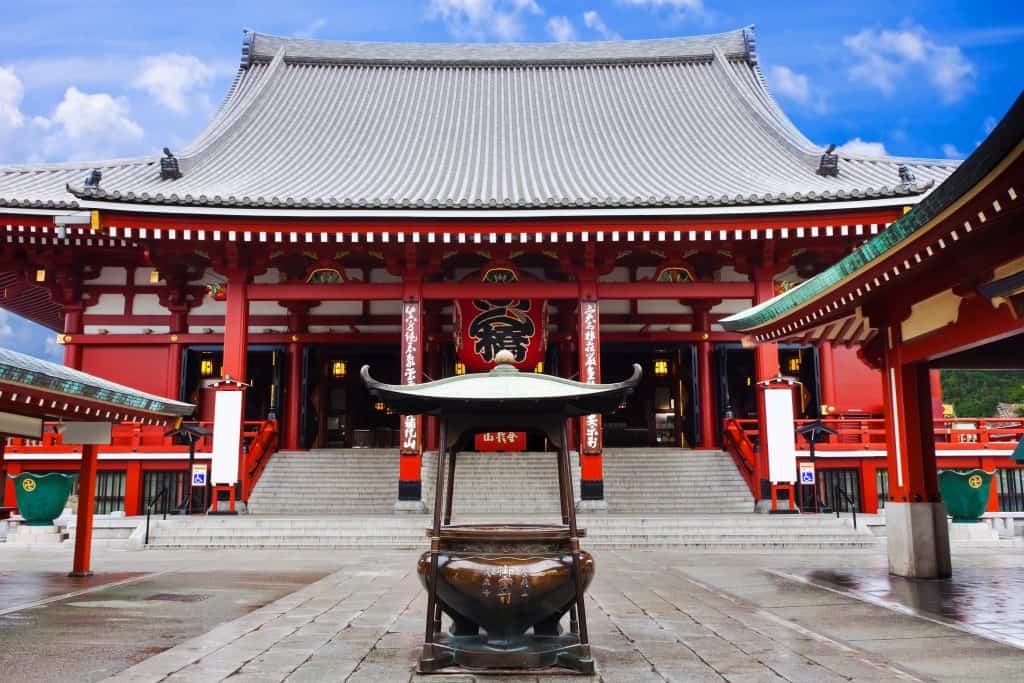 You may think four days in Tokyo is too much time but honesty there is so much to do! I also have a 3 days in Tokyo Itinerary and a 5 day Tokyo Itinerary if you want to check those out.
I used to live in Japan and when I put together this Tokyo 4 days itinerary I thought a lot about what is the best of the best to see and do and eat!
Here is an overview of the Tokyo itinerary 4 days (4 days 3 nights Tokyo) and what we will be doing:
Day 1 – Historic and Cultural Tokyo – Asakusa and Akihabara
Day 2 – Culture and Food in Tokyo – Tsukiji, teamLab Borderless
Day 3 – Modern Tokyo – Shibuya and Harajuku
Day 4 – Day trip to Mount Fuji
I have over 30 articles on Japan on my site if you are looking for more information.  I have hotel guides for Where to stay in Tokyo for first time visitors and also guides for Shinjuku Hotels and Ginza Hotels.
I also recommend checking out my post on the Best Travel Apps for Japan to make your trip run nice and smoothly.
If you would like to do a different day trip from Tokyo or have an extra day, check out my post on the Best Day Trips from Tokyo. 
What to do in Tokyo in 4 days – must see in Tokyo in 4 days
Day 1 – Historic and Cultural Tokyo – Asakusa and Akihabara
Morning – Asakusa 
The best way to start your 4 day trip to Tokyo is by immersing yourself with a full heritage and subcultural day in one of Japan's historical temples located in Asakusa. Asakusa District is the center of Tokyo's shitamachi, which literally means "low city" because it has a low elevation of this old part of Tokyo. You can easily explore this district on foot and you will find a lot of temples and shrines.
Sensoji Temple
Sensoji or Asakusa Kannon Temple is a Buddhist Temple located in Asakusa. It is one of the most visited places in Tokyo. Upon entering the temple, you will first pass through the Kaminarimon (Thunder Gate), the outer gate of Senosji Temple, and the symbol of Asukasa.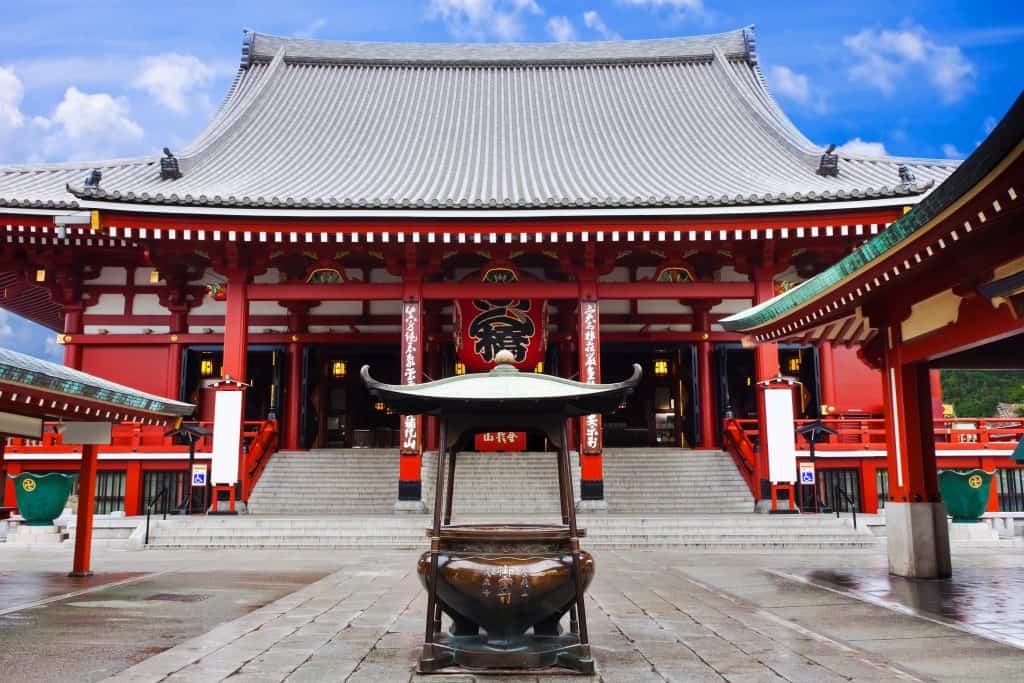 There are a lot of events that are being held throughout the year in the Sensoji Temple. The biggest event held in Sensoji Temple is the Sanja Matsuri Temple which is an annual festival of the Asukasa Shrine held every May.
Asakusa Shrine
Asakusa Shrine is a small Shinto shrine that honors the three commoners who were deeply engaged in the foundation of Sensoji. You can easily locate this shrine because it is located next to SensojiTemple and marked by a large stone torii.
Most visitors who go to Asakusa Shrine pray for happiness and protection because it has been said hat any wish can come true when made in earnest at this shrine. Some also pray for good heath, success in business, and even to pass their entrance tests.
Nakamise
Just 200 meters from the Sensoji Temple, is a shopping street named Nakamise, which leads from the outer gate to the second gate of the temple, Hozomon. There you will find a lot of Japanese souvenirs and folding fans that you can buy for your family and friends, as well as traditional Japanese snacks. You can spend your entire morning exploring each and every single one of the stores in Nakamise.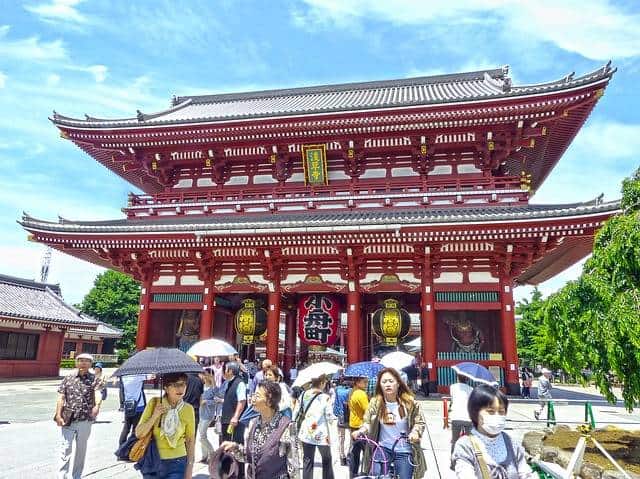 Lunch – Asakusa Sushi Ken
This restaurant is the first Halal Sushi restaurant in Japan and it is just a 6-minute walk from Nakamise street. This restaurant will greet you either at their counter seats from which you can personally see the chef make your sushi in front of you, or in one of their tatami-floored rooms.
Prepare yourself to be amazed at how the chefs skillfully prepare your sushi and the prices start from 100 JPY per piece and the prices are pretty reasonable. Aside from sushi, you also have other options on the menu such as Kohada, or Seasonal Squid with Yuzu and Salt. But the most recommended dish in this restaurant is the Nigri Deluxe which is a hand-formed sushi.
Afternoon – Akihabara 
Akihabara (nicknamed as the Electric Town of Tokyo) is considered as the center of anime culture in Japan and it is the most famous place to go for a great shopping experience in Tokyo. From Asakusa, you can either walk for 45 minutes, or take a cab or the subway to get to Akihabara. And prepare to satisfy yourself with manga and Japanese subculture dreams!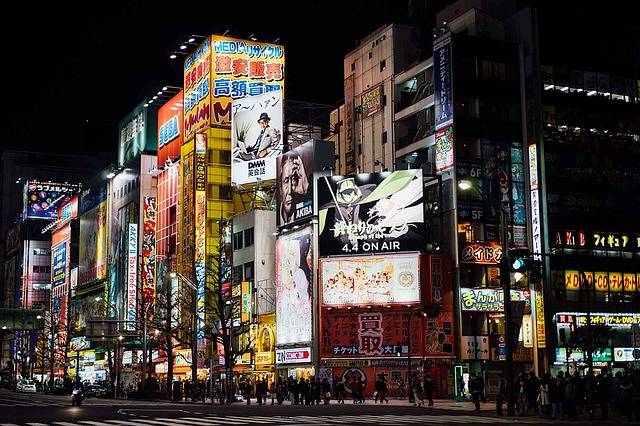 Maid Cafes
Maid Cafes are cosplay themed restaurants in Akihabara where visitors and guests are served by waitresses dressed as French maids and they can engage in conversation and games with the customers.
Maid cafes are popular with both men and women and some cafes have English speaking maids such as @Home Cafe. 
Don Quijote
Don Quijote is a very popular discount store chain in Japan that sells everything from groceries, toys, to electronics and high end fashion goods. Their Akihabara branch is the home to the girl pop group AKB48, who perform daily shows at their theater on the 8th floor of the store.
Radio Kaikan
It is one of Akihabara's famous and iconic landmarks and they feature more than 30 stores that sell electronic goods, as well as anime related stuff. Here you can find some of the famous stores such as K-Books, Kaiyodo, and Volks which sell all kinds of manga, models, toys, trading cards, and other collectibles.
Mandarake
Mandarake is the center of all manga and anime stuff in Japan. This is the perfect place to splurge on kitschy items. They also specialize in pre-owned goods, and it is a good place to look for rare and collectible manga items, figurines, dolls, posters, and other manga related goods.
Dinner – Motenashi Kuroki 
Motenashi Kuroki is a compact ramen store in Akihabara that has always a long line at the front during lunch and dinner time. So, as a tip, go there when your stomach is still half empty. But the staff collects the food tickets while you are lining up after your purchased your food from the vending, so when it is your tun to get your seat, your food will be served immediately.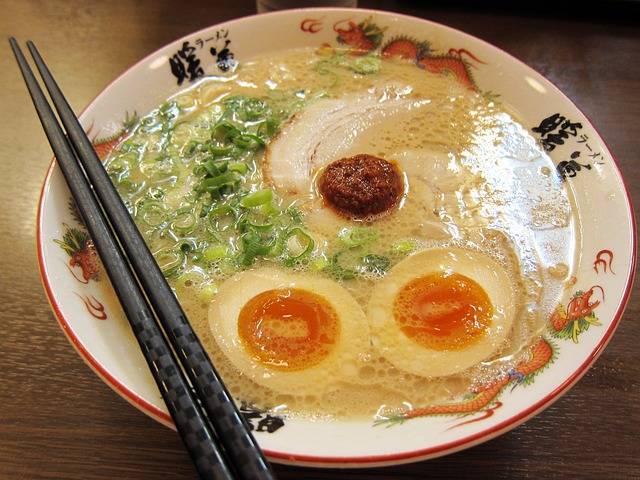 The famous dish of this restaurant is of course their "Shio Soba" or Salt Ramen. The food presentation may look simple, but it is very delicious. The ramen is topped with roasted pork, soft-boiled egg, sliced onion, and dried laver.
Day 2 – Culture and Food in Tokyo – Tsukiji, teamLab Borderless Museum
Morning – Culture and Food Tokyo Bay
Tsukiji Fish Market – Toyosu Market
The Tsukiji Fish Market used to be one of the largest wholesale fish markets not only in Tokyo but in the whole of Japan and even the world. The market was so large and encompassed a large amount of space not only just inside and outside, but so big that they moved the location to a much bigger one in October 2018.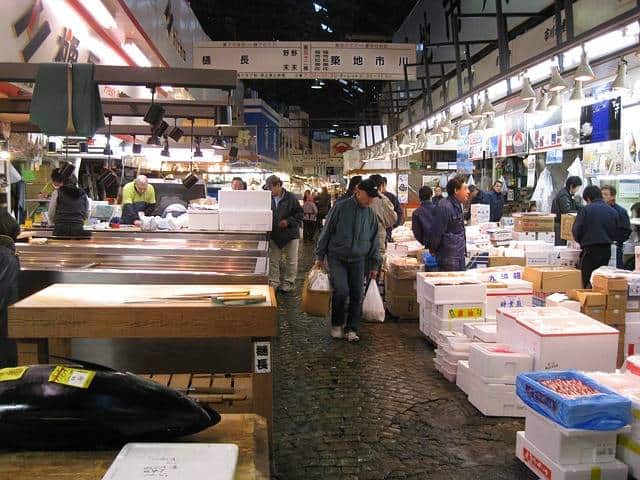 The outer area of the Tsukiji Fish Market is still there today covering a 150m by 250m area, with alleys and shops, this is still worth visiting for the character and experience of a part of the market which had been open since 1935. The new market is called Toyosu Fish Market and includes over 600 merchants, who moved from the original location, shops, restaurants and a tuna auction. This market has overtaken the record previously set by the Tsukiji Fish Market as being the largest in the world.
This is a great place to visit first thing in the morning with large numbers of people purchasing fresh produce, produce being brought in to be sold, and they even sell fresh breakfast produce.
Teamlab Borderless Museum
This is anything but a normal museum.
teamLab Borderless is a world of artworks without boundaries, a museum without a map created by art collective teamLab.
teamLab Borderless is a group of artworks that form one borderless world. Artworks move out of rooms, communicate with other works, influence, and sometimes intermingle with each other with no boundaries.
Shinjuku Gyoen National Garden
Shinjuku Gyoen National Garden is located close to the Shinjuku Station and offers a peaceful escape from the city's crowds. As one of the largest parks in Tokyo and one of the best places to see cherry blossoms in spring, you can see why this park is popular with the locals.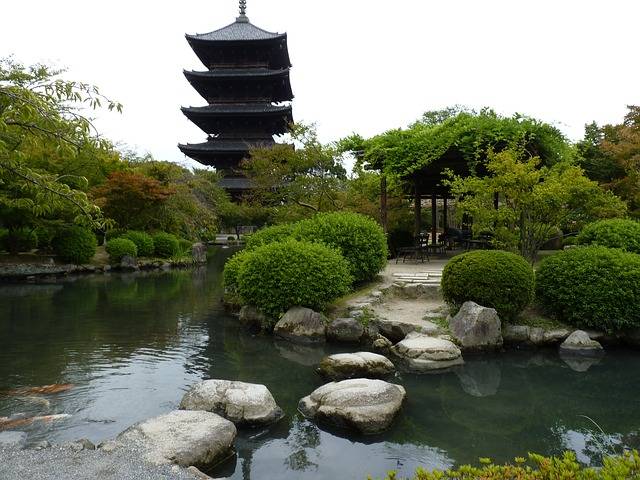 The park is divided into three different sections with the Japanese Botanical garden with large ponds, bridges, and pavilions surrounded by beautifully kept trees and plants. The other two gardens are the French Garden and the English Landscape garden, with cherry trees, open spaces, and a greenhouse with tropical plants.
Lunch – Slurp Michelin-starred ramen at Tsuta
A great lunch pit stop to sample some of the best ramen in the world is at Tsuta. Tsuta is known worldwide for being the first ever ramen restaurant to win a coveted Michelin star in 2015, the restaurant can often get busy at times so before the restaurant opens at the beginning of the day you have to go to the restaurant and reserve your time slot, with a refundable deposit when you show up.
It is well worth the effort of getting a ticket and returning at your time as the ramen is causing a stir around the world, often referred to as the best ramen in the world, with a normal ramen price tag.
Afternoon – Visit the Imperial Palace
Located on the former site of the Edo Castle the Imperial Palace is the residence of Japan's Imperial Family, with a large park surrounding the castle, with moats and stone walls. The palace was built in 1888, during World War Two it was destroyed but they subsequently rebuilt it to the same style it once was.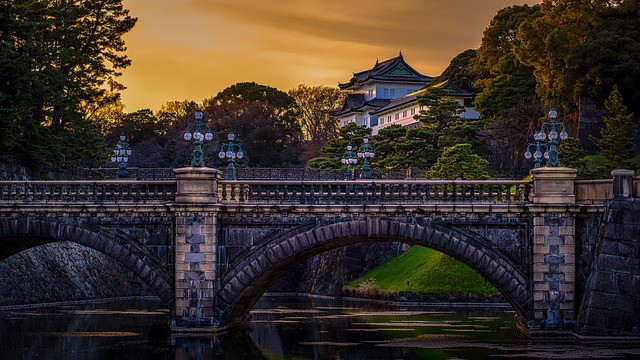 When you visit the Imperial Palace visitors can see two bridges that form the entrance to the grounds, the Nijubashi. The inner palace is only open to the public on given special occasions such as January 2nd and on the Emperor's Birthday on February 23rd. Visitors can take a guided tour of the grounds or just visit the Imperial Palace East Gardens, which is a great place to explore and walk around.
Shibuya Crossing
A must visit for any trip to Tokyo is the world's busiest crossing. Shibuya Crossing is a street crossing section just outside of Shibuya station that has people walking in all directions. People are constantly crossing the street in all directions, all day below the three massive Times-Square style TV screens.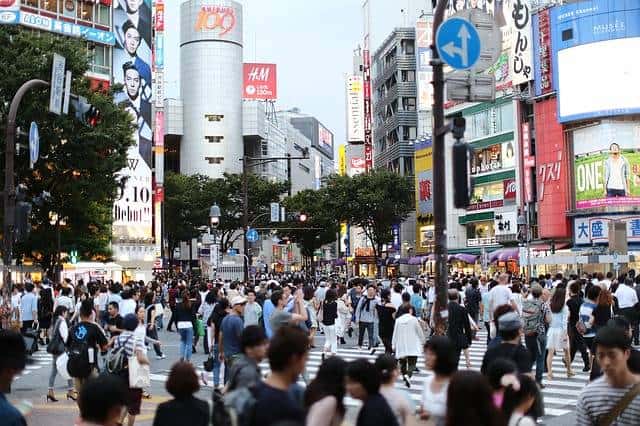 It has to be experienced to get the real feel for how busy the crossing is, with people filling up the corner of the intersection. When the traffic is allowed past for a few minutes, then the chaos occurs, with people crossing all together at the same time, bumping into each other at one of the most popular meeting points in the city.
Robot Restaurant and Show
The Robot Restaurant and Show is like nothing else in the world, in the Shinjuku's Kabukicho area, which is an area with rainbow lights and music blasting everywhere. Even the outside of the building is unique with robots and bright lights in the window. Tickets can be purchased at the door or in advance.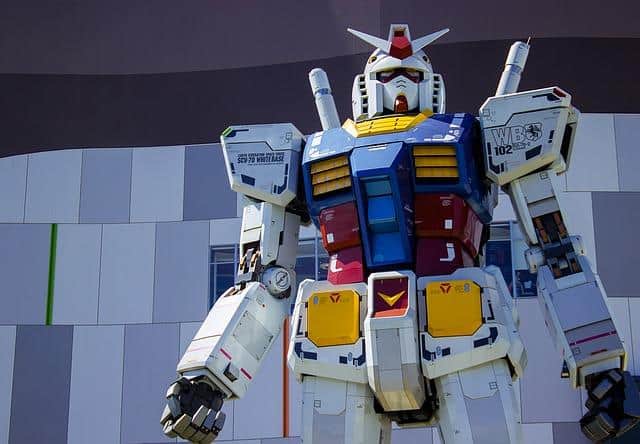 When you walk into the building you walk through a long neon corridor into the bar, while you wait to go into the main entrance. The show is unlike anything else with lady drummers, clowns, sexy girls, oversized stuffed pants, glow stick, and robots. The show is an hour and a half and visitors will be entertained for the whole time in a way they have never been before.
Dinner – Uoriki Kaisen Sushi 
This humble and small sushi bar is located within the supermarket of Tokyo's department store in Shibuya. It serves exceptionally fresh sushi and sashimi at a very reasonable and affordable price. Although it is not a Michelin-star restaurant, it is considered as a hidden gem in Tokyo because of the food quality at an affordable price. The basic Sushi set starts at 900 Yen, with ten pieces of sushi.
Day 3 – Modern Tokyo – Shibuya and Harajuku
Morning – Modern Tokyo Harajuku
Experience Harajuku – take a food tour
Harajuku is a neighborhood of Tokyo which is famous for fashion, cute characters, pop art, and general eccentric products.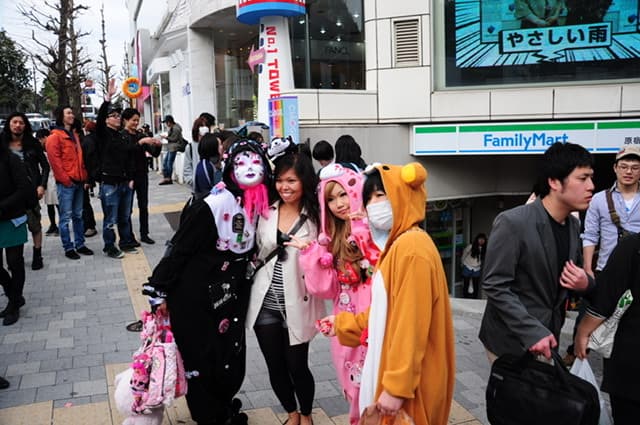 Harajuku is a great place to take a food tour, with cultural snacks, creative pastries, unique sweets, and crazy lunches. The area is colourful and filled with life, with everything from international designers, artists, chefs, fashionistas, and local designers utilizing the area to showcase their work.
Yoyogi Park
After your morning exploring and discovering the weird and wonderful creativeness of Harajuku, its time to relax in another of Tokyo's large city parks, this one is called Yoyogi Park. The park features beautiful lawns, ponds, woodland forest areas, and picnic spots. The park offers unique landscapes and colours in both the spring with cherry blossoms and in the autumn with golden reds and browns.
Lunch – Cat Café Mocha
After relaxing in the park its time to get some lunch, an unusual place to stop and have lunch if you like cats is at Cat Cafe MoCha. The cafe is designed as a cat wonderland, with all the wooden space utilized as a cat playground, there are cats of all breeds in the cafe, which you can play with and pet. They even have specific feeding times and treats on offer to feed the cats.
Afternoon – Meiji Shrine 
Meiji Shrine is a shrine specially dedicated to the defied spirits of Emperor Meiji and Empress Shoken. This is just adjacent to Yoyogi Park and it has spacious shrine grounds and walking paths where visitors can have a relaxing stroll. Upon entering the shrine, a massive torii gate will welcome you and the sight of the busy city will be replaced by a beautiful and tranquil forest.
Meiji Jingu Museum
This newly opened museum features treasures from the shrine's collection, such as personal belongings of the emperor and empress, including the carriage which the emperor rode to the formal declaration of the Meiji Constitution in 1889. The museum is surrounded by beautiful, dense woodland that is picture-perfect. And it is not that far from the Harajuku shrine entrance.
Tokyo Tower
At 333 meters high, the Tokyo Tower is the world's tallest self-support steel tower, and is a symbol of Japan's post-war rebirth, starting out from the rest of the city its red and white colours can be seen from far and wide.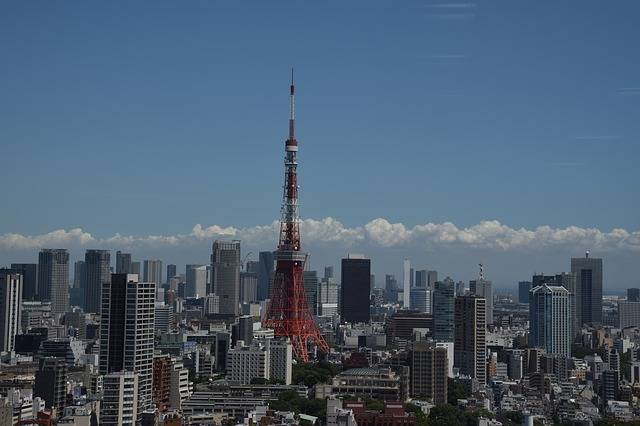 Visitors can reach the main deck (150 meters high) either by climbing the 600 steps or via the elevator. From the viewing platform, you can see a view of the city, despite the height. A better view is offered at the 250-meter top deck, where you can see all around the city.
Dinner – Eat Sushi
You can't visit Tokyo or Japan without eating Japanese sushi, the country's most famous dish. Sushi is served in every corner of Tokyo, with a large variety of different types, from traditional to sushi rolls wrapped in seaweed and deep friend pouches.
In Japan they have a large variety of sushi, including Nigiri (small rice balls with fish on top), Gunkan (small cups made from seaweed and rice, filled with seafood), Norimaki (the most commonly known sushi), Temaki (rolled seaweed cones filled with rice and seafood), Oshizushi (pressed sushi), Inari (sushi rice filled inside a deep fried tofu bag), Chirashi (vegetables, seafood, and rice served in a bowl).
Day 4 – Day trip to Mount Fuji
Take a day trip to Mt. Fuji
A popular day trip from Tokyo is to Mount Fuji and Yamanaka Lake, which are located approximately two hours by train from the city. Standing at 3776 meters above sea level, Mount Fuji is Japan's highest mountain, it is also a sacred place. The mountain is famous around the world for its perfect volcano formation shape, as it is an active volcano which last erupted in 1707.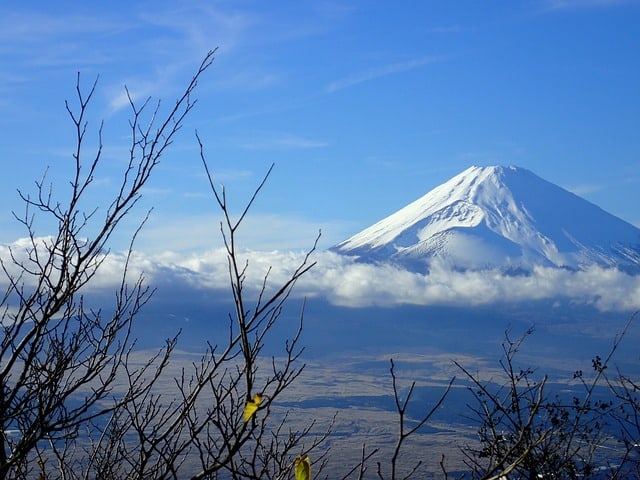 Mount Fuji is a great place to visit on a day trip from Tokyo and has many activities including climbing the mountain, visiting one of the 5th stations located on the sides of the mountain, Fuji five lakes, Hakone National Park, Fujinomiya, and there are even snow resorts to explore in the winter months.
Yamanaka Lake is the largest of the five lakes, which is shaped like a whale, perfect for ice fishing (in winter), water sports, visiting art museums, and just taking in the beauty of the high altitude lake.
Check out my post on where to stay in Hakone to visit Mount Fuji.
Conclusion: 4 Days Itinerary in Tokyo Trip
I hope you have enjoyed this 4 day Tokyo Itinerary.  I have also put together a 3 day Tokyo Itinerary and a 5 day Tokyo Itinerary as well if you are looking for more suggestions to put together a custom Tokyo Itinerary for your Tokyo trip.
Sharing is Caring! Pin this article to save for later.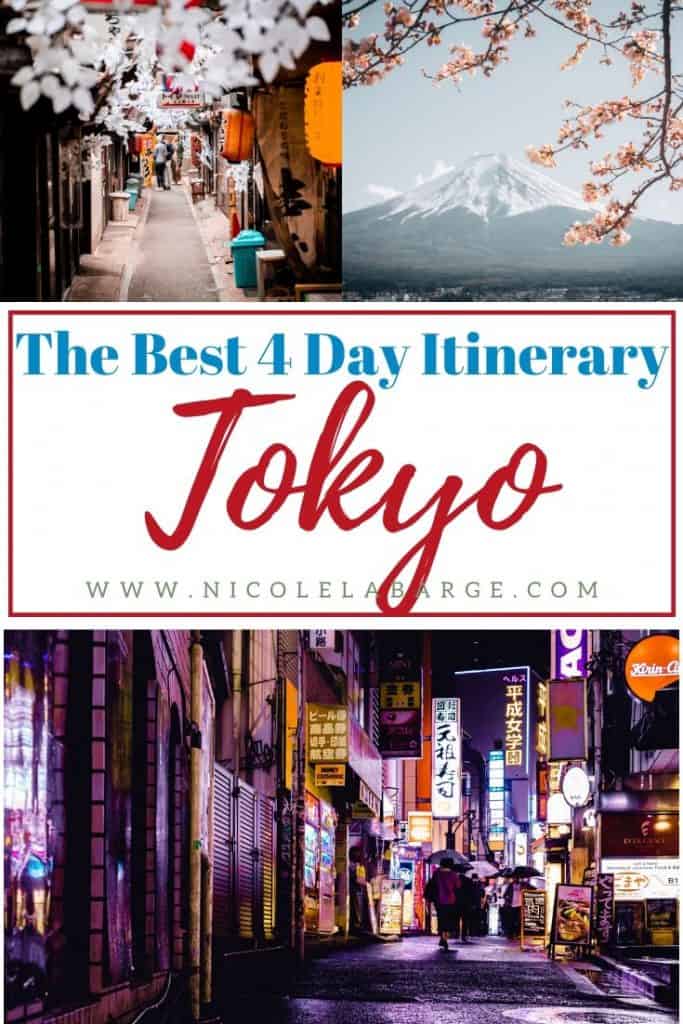 Continue Reading More on my website:
Tokyo Facts: Interesting Facts about Tokyo, Japan
Japan Facts: 50+ Fun Facts about Japan
31 Famous Landmarks in Japan and Japan Monuments
10 day Japan Itinerary: How to spend 10 days in Japan
Planning a Trip to Japan? Tokyo Osaka Kyoto – 7 day Japan Itinerary
Recent Posts